THE SERVICES WE OFFER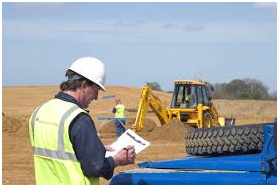 Onsite Safety Surveys:
Can be scheduled with or without the onsite supervisor knowing. The survey consists of observing the areas where employees are working for hazards and safe work practices. Our consultants can conduct a toolbox talk for your employees, if requested. Other inspections include first aid kit supplies, fire extinguishers and emergency action plan information posted.
---
OSHA Inspections:
We recommend you  have a Premier Safety Solutions consultant assist you when there is an inspection by OSHA. Our consultants can answer questions, take pictures and ensure that your employees are in compliance.
---
OSHA Informal and Formal Hearings:
These hearings can be reduced with management and employees that are truly committed to safe work practices. We like to investigate and be sure you have all the proper documentation to prove your company's dedication to safety.  We will be with you through the entire hearing process.
---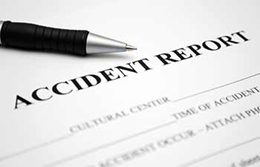 Accident Investigation and Reporting:
Accidents can happen and when they do, we recommend a Premier Safety Solutions consultant investigate to determine exactly how the accident occurred, the plan of correction and documentation of the incident.
---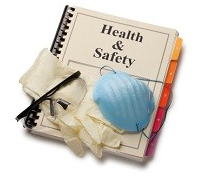 Safety & Health Programs:
Created based on your company's scope of work.  A Safety & Health Program is for your employees to follow so that they can perform their job tasks without risk or injury. Regular review and revisions of the Safety Program, as well as retraining of employees may be necessary when new work practices or procedures are introduced.
---
Job Specific Safety Programs:
Created based on your company's scope of work on a particular jobsite. This Program is designed and written to address job specific safety hazards and how your employees can perform their tasks without risk or injury. Knowing the specifics about your company's scope of work assists us in creating an effective program for your employees to follow.
---
Initial Safety Training with your Safety Program:
Ensures all employees are working together to keep the workplace safe. Dedication at all levels of management and personnel, it is our goal to create an atmosphere of good morale and increased production. It is proven, safety is production.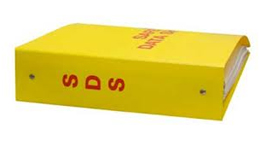 HAZCOM / SDS Program:
We put together your company's HAZCOM Program to include the research of Safety Data Sheets (SDS) for all the chemicals your employees work with. Your HAZCOM Program will explain how your employees will be informed about any hazardous chemicals they may come in contact with while working. Safety Data Sheets are put together in order with an index for easy lookup.
A copy of your HAZCOM Program and SDS information needs to be in close proximity of your employees at all times in case of an emergency and for review by other contractors or OSHA.
---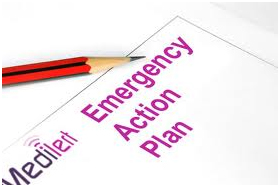 Emergency Action Plans:
In providing for the safety of all workers, it is necessary to have an Emergency Action Plan in place. It is essential that all workers know the emergency meeting location and procedures to be followed in the event of a fire, explosion, electrical failure, severe storm, structural failure, etc.
---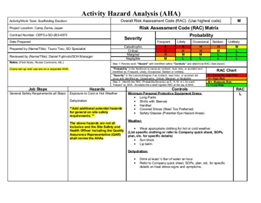 Activity Hazard Analysis (JHA):
This is an effective management technique used to analyze work tasks, identify potential hazards and what safety measures need be utilized to minimize hazard exposure to workers. This is done by reviewing step-by-step procedures that are performed by your employees and any hazards associated with the tasks.  The Activity Hazard Analysis addresses how these hazards will be eliminated or reduced.
---
Random Employee Drug Screening:
We come to your premises or to your jobsite. A Drug Free Workplace Policy put into effect and carried out will ensure substance abuse is not putting any of your employees in danger. Pre-employment and random drug screening is recommended for all employees.
---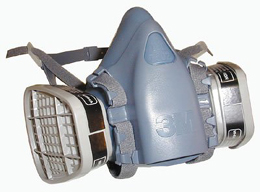 Respirator Medical Review and Fit Testing
OSHA requires a medical evaluation be provided to determine an employee's ability to use a respirator in the workplace.  Once an employee is medically cleared, a respirator fit testing is essential for protection against airborne hazards.  Premier Safety Solutions uses a bitrex agent to perform their testing.  We can come to your premises or jobsite to perform these services. 
---
Silica Written Exposure Control Program
We put together your company's Written Exposure Control Program based on your company's Table 1 and non-Table 1 activities.  The Program describes what engineering controls, work practices, housekeeping measures and respiratory protection use is necessary to limit employee exposure to respirable crystalline silica.
Silica Exposure Monitoring Services
OSHA requires exposure monitoring be performed to for tasks not listed in Table 1 or whenever engineering controls, work practices and/or respiratory protection cannot be fully or properly implemented.  Respirable crystalline silica exposure monitoring will determine if permissible exposure limits are exceeded.  We will perform the test by attaching a monitor in the breathing zone while the task with exposure to respirable crystalline silica is being performed.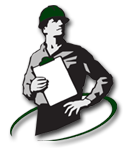 WHAT MAKES US DIFFERENT?
Premier Safety Solutions creates a standard of excellence by approaching safety with a positive attitude.
Positive reinforcement encourages management leadership and worker participation in creating and keeping a safe workplace. Safe work habits must become a part of the normal everyday routine.
Premier Safety Solutions provides their clients with high level safety training and specialized knowledge and understanding of OSHA regulations.